This post is sponsored by Renew Life but the content and opinions expressed here are my own.
---
Looking back over my posts from the past three years, you'll notice that I mention my women's wellness journey often. My family has a history of endometriosis and other female health issues. This has made me hyper aware of my own body.
As far back as my teens, I can recall having long, painful menstrual cycles. As I've had babies and consequently aged, my body almost seems to be cycling back to those first periods.
Long and painful. Horrible PMS symptoms.
In just the past 6 months, I've had 4 appointments with my Gynecologist and have two more scheduled for the end of the month. When I say journey, I truly mean a passage.
It began with ovarian cysts in the months after losing my mom three years ago, which then ended up with more discomfort.
My doctor and I have figured a few things out, and my appointments now consistently revolve around finding ways to ease my discomfort during my periods.
My doctor says I'm at least 5 to 6 years away from menopause, so we need a solution that will carry me to the next stage.
Renew Life Herholistic Probiotics
Fortunately, I was introduced to Renew Life Herholistic daily probiotics. They are specifically formulated with a blend of probiotics and nutraceuticals, designed to address the unique hormone-related challenges faced by women throughout the phases of their life.
For example, Renew Life Herholistic Probiotics Period Partner is designed to reduce occasional bloating and period related discomfort. Not to mention, it helps to alleviate mood swings all month long. *
My husband and kids can surely appreciate that!
Plus, perhaps even more important for me, the probiotics contain the strain L. plantarum, which increases iron absorption.* Considering I'm a woman who needs extra iron due to the effects of heavy periods, I need all the iron I can get!
In fact, Renew Life Herholistic Probiotics Period Partner has 40 Billion cultures per capsule, 10 clinically studied strains and contains a blend of probiotics and an amino acid. Including L-theanine to help promote relaxation.*
Which one of us doesn't need to just relax every once in a while?
If you've done any research on your own wellness journey, you're sure to have found that so much of our health matters begin with our gut.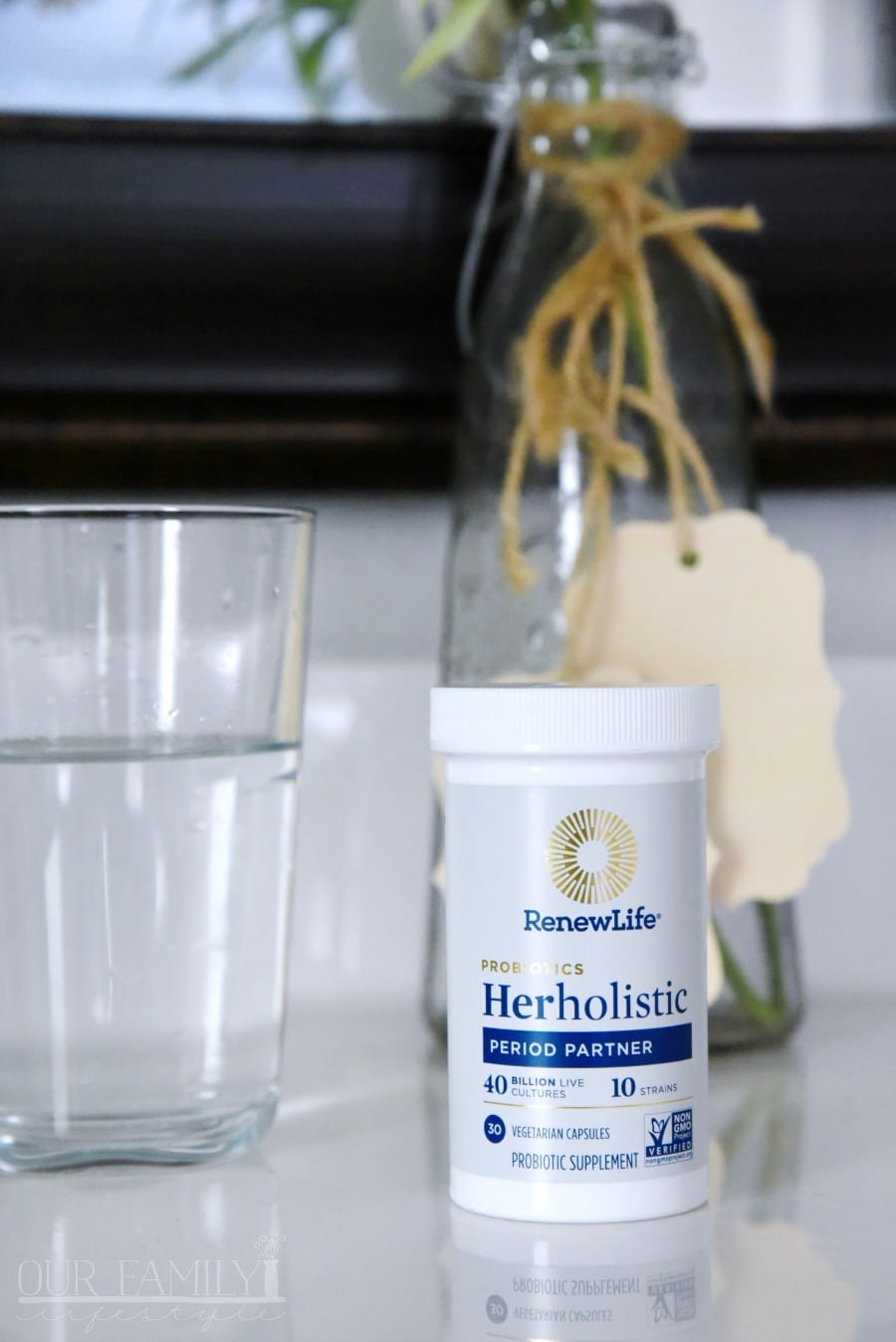 Renew Life uses high quality probiotic supplements—backed by science—that are Non-GMO Project Verified, Gluten, Dairy and Soy-Free.
Renew Life's Herholistic Period Partner can help your gut get back on track towards greater digestive wellness, therefore promoting better whole body wellness.*
Find Renew Life Herholistic at a Whole Foods near you in the refrigerated probiotics section of the vitamin aisle.
Begin your journey towards becoming a Daily HERo today!
*These statements have not been evaluated by the food and drug administration. This product is not intended to diagnose, treat, cure, or prevent any disease.